We have a separate Co-working area to discuss your projects, meet your client or where you can discuss fabrics and finishes for your projects. Showcasing our manufacturing know-how, EOL's showroom is open for you to either simply call in when you are passing or make an appointment to come in with your clients or for a product overview.
Come & discover the eol showroom.
Get a feel for materials and experience the different textures
Find inspiration and inform your choice of colours thanks to our textile sample books and shade cards. Choose your colours with the certainty that your future office design and furnishings will faithfully reflect your company's identity.
Find office inspiration
Experience for yourself the comfort of our chairs; assess the outstanding quality of our system and executive office furniture ranges, as well as our clever and practical storage solutions. Discover our acoustic office furniture systems, including a variety of full height partition screens and desktop screens. Picture your new office reception area featuring ergonomic reception counters, comfortable seating, workspace storage and stylish low tables. Stay on top of the latest work trends thanks to our collection of informal and breakout office furniture.
Let our team of interior designers
and office design specialists support and advise you in the fitting out of your office space. Discover for yourself the very latest in cutting edge technology and design trends in our office furniture showrooms.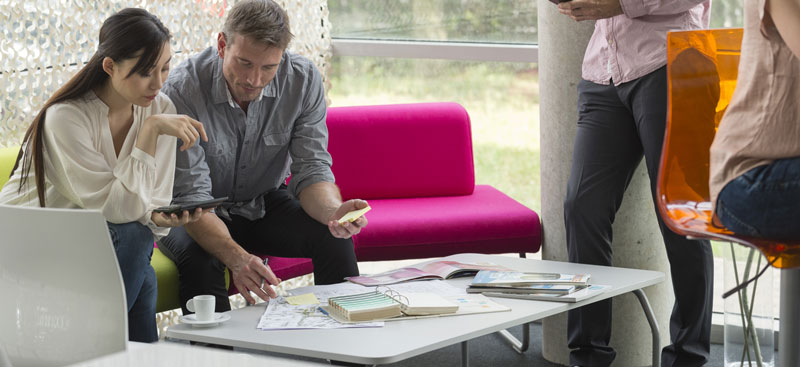 1,500 office furniture
distribution partners
Alternatively, you can also find our furniture ranges exhibited in the showrooms of any one of our 1,500 office furniture distribution partners. Get in touch with us by completing our inquiry form and we will put you in touch with a distributor near you.
PARIS
171 Avenue des Grésillons
92230 Gennevilliers, France
+33 (0)1 47 33 47 37
BRUSSELS
81 Chaussée de Nivelles,
1420 Braine-l'Alleud
+32 (0)2 894 99 80
NIEUWEGEIN
Symfonielaan 1
3438 EW Nieuwegein, Nederland
+31 (0) 6 823 62 118