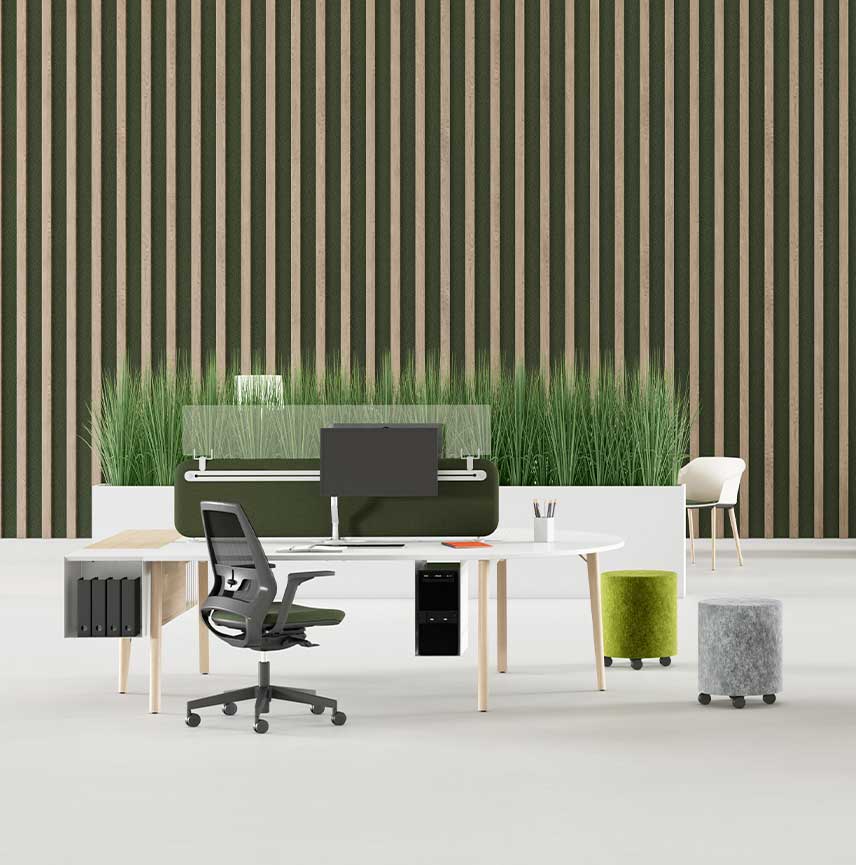 EOL, office furniture manufacturer.
For over thirty years, EOL has designed and manufactured 100% French-made office furniture. It's thanks to our manufacturing and storage capacity, underpinned by cutting-edge logistics that EOL has secured a leading position in the European market.
Our European know-how, quality guaranteed
Our know-how ensures that our product ranges, inspired by a distinctive French design style, are produced with finishes of the highest quality. EOL takes great care in the selection of materials, with a particular emphasis on ecology. Our know-how is the embodiment of a range of core principles: the continuous search for optimal product quality and safety in use, support for employment and the national economy, curbing the impact on the environment and guaranteeing compliance with the strictest social norms.
0
product references from stock
0
manufacturing sites in France
To meet standard and recurring product orders, our facilities manufacture a wide selection of items available from stock, ready for delivery anywhere in France within 15 days. These account for over 90,000 product references and cover all market segments: reception, system & executive furniture, chairs, meeting & conference, filing, catering, cafeteria, shared and informal spaces… Our joinery workshop is fitted with the latest in CNC machine technology, guaranteeing the highest levels of precision at every stage of the cutting, veneering and drilling processes. With several million euros invested in its industrial infrastructure, EOL has 35 latest generation machines and over 20,000 m2 of manufacturing space at its disposal. Addressing more specific needs, EOL's very own design studio is tasked with creating and developing prototypes of your custom-made furniture solutions. With rigorous checks implemented throughout the industrial process, EOL has end-to-end control over the compliance and reliability of all its furniture.
Our approach
EOL is committed to respecting your needs and ambitions, in line with your budget.
PROMOTE AND IMPROVE
USER WELL-BEING
Because an employee that feels good is likely to be more effective and loyal, our industrial design studio imagines innovative, ergonomic and aesthetically appealing furniture, shapping a workspace that's both considered and motivating.
REFLECT A COMPANY'S
IDENTITY
We also offer bold made-to-measure solutions, delivering unique spaces that reflect a business' identity and core values.
EVOLVE WITH CHANGING
WORK PATTERNS
Organisations today focus increasingly on ensuring mobility, exchanges, creativity and well-being in the workplace. We put forward innovative solutions that lend themselves perfectly to a variety of applications, in both collaborative or individual work modes.
EOL manages a modern and efficient central warehousing facility, underpinned by 8 regional distribution platforms in France and a further 4 in the Benelux, UK and Ireland. Our main warehouse, located at Savigny sur Clairis (89), lies at the heart of our operations. Our logistics infrastructure is able to ensure daily distributions to our local platforms in a swift and cost-effective way. We are therefore ideally positioned to provide proximity-based delivery and assembly services. EOL's commitment is to maintain close client relationships, backed up by a guarantee on swift and high-quality service provision.
The operational setup of our site at Savigny sur Clairis (89) is designed in such a way as to offer optimum service efficiency to our clients.
The dispatching plan is established and updated daily in accordance with delivery dates requested by clients.
An order submitted prior to midday is likely to be dispatched on the same day in the event of an urgent delivery request.
All orders are palletized and rigorous quality control procedures subsequently enable each operational step to be fully traceable through successive handlers.
Expeditions are progressed through our regional distribution platforms aiming for the shortest turnaround times possible and observing the highest standards of quality.